Hey all,

I am starting this thread for some help, as well as to show my work, on my first nozzle here. I finally got ahold of some 8" PVC, so I am ready to get started.

My biggest question for every is: for the nozzle inlet. What do you use? I was thinking about drilling and feeding the nozzle with a 1" PVC pipe (and using marine epoxy to secure it), and then finding some way to connect my 1" hose to the 1" PVC. Anyone have any better ideas? I tried reading a lot of topics, but I couldnt find anything that addresses this issue specifically. Thanks in advance!
Well, I finally had some time to get this started, and off to a good start! I will give everyone a run down of what I did in case you are interested....
I started with your typical Schedule 40 8" PVC pipe. I used a hacksaw to cut it to an 18" length. Not the best method, as it was hard to get a really straight cut. I had to sand a good deal to get it close to flat. Anyone have any suggestions on a better way to cut?
Next, I used my hand drill to drill a tangential hole for the input nozzle. Would be much easier to do on a drill press, so that you dont have to worry about slipping. I used 1" PVC as the input, and sealed it from both sides with Gorilla Glue and silicone sealant. Next time, I think I would use epoxy instead of the glue, but it works fine so far.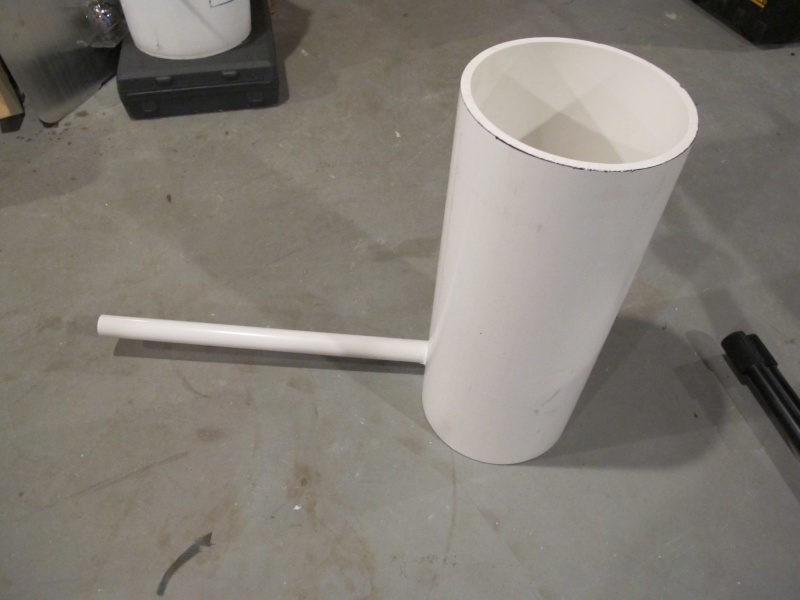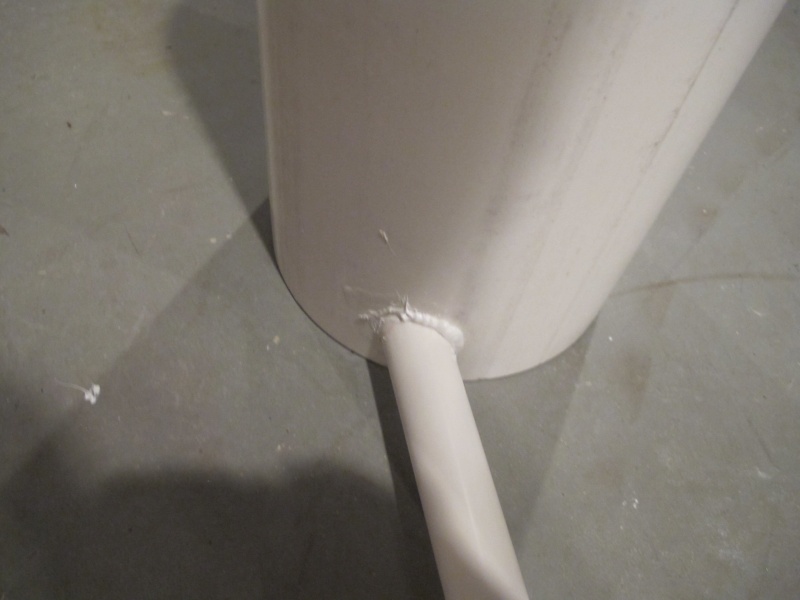 The next step was to build the 'frame'. I used two sheets of 1/2" PVC (one foot square), and 4 threaded rods. I also found some 8" gaskets to get a good seal between the PVC sheet and the PVC pipe. I figured this would be easier for testing, since it can be taken apart very easily. This worked pretty good for testing, though I think there is a very slight leak (on the side of the pipe where I hand cut). For the final product, I will probably use the gasket, and some silicone to seal it completely. The frame is shown below.
Nothing too fancy, but working very well, and very easy to take apart. For the foam, I used 3 sections of 2" thick foam, of increasing density. Shown below.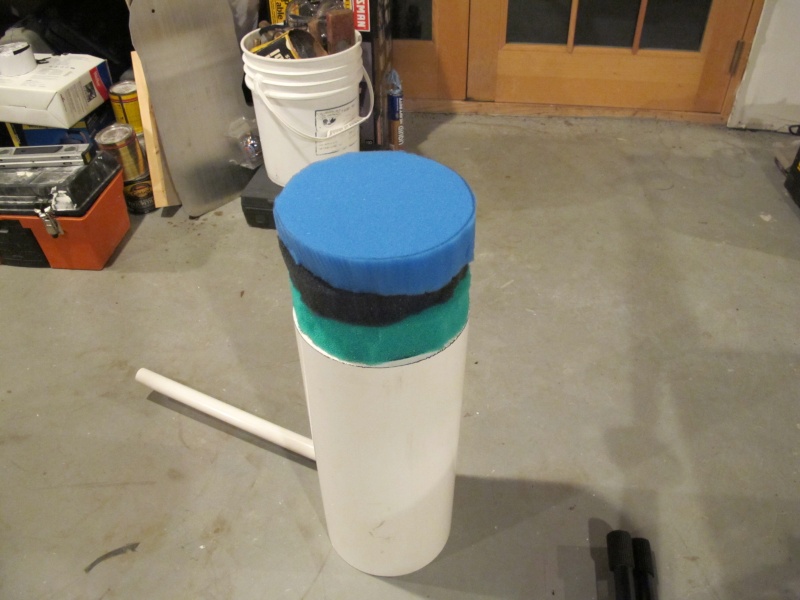 I used regular straight drinking straws (about 1000) sitting on the foam. To hold the bottom of the foam, and the top of the straws in place, I used two 1" strips cut from the 8" PVC. As others have done, I cut out just enough so that the strip would fit into the 8" PVC, and used that pressure to hold the screen in place. I also used some silicone to seal the outer edge and hold things in place.
With the inner part all finished, I just need the nozzle. I did some tests with just drilling a 1/2" hole in my PVC sheet top, and it allowed me to at least shoot some water! Once my awesome brass nozzles from John (thanks again! they work great!) arrived, I put them in. Having already cut the 1/2" hole where I wanted the nozzle ended up hurting me in the long run. Without a drill press, it was harder to cut the 1" hole I needed to mount the brass nozzle. I don't claim to be that good at working with tools, but with that 1/2" hole, I had no way to keep either the hole saw, or the spade bit, steady. Maybe I just need to buy a drill press...
So, my 1" hole ended up being about 1.15" inches....But I was determined to try things out, so I laid the nozzle in the PVC sheet on a flat surface, and used my expanding Gorilla Glue to secure it. Ended up working pretty good (after removing some excess). There was a small leak, which you can see in the pictures....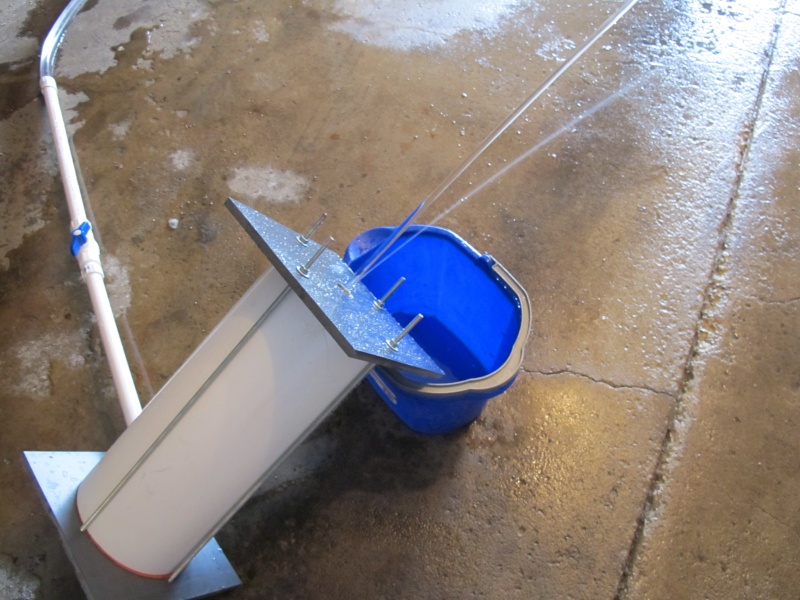 But the main stream looked pretty darn good, considering everything was only dry fit, so there were some small leaks in the hoses and such.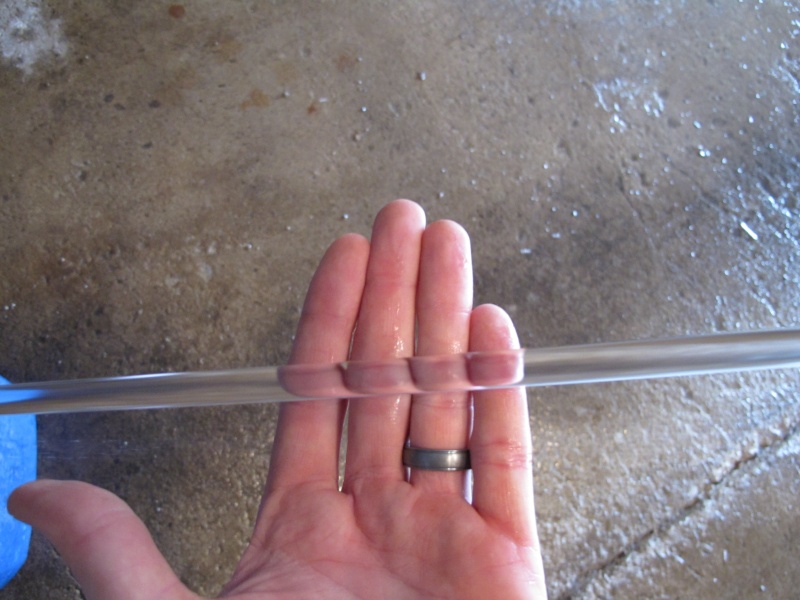 I also had a "pump jitter filter" for this test. I just used PVC primer/cement to seal the end caps and the inlet/outlet pipes, and also used silicone sealant to make sure it was airtight.
But I do think that not having airtight hose connections may have impacted the effectiveness of the filter. I tested with and without it, and I still had the stream breaking up and moving a bit. I will be sealing my connections and trying again!
I will post some more pictures later, but in the meantime, I am looking for some suggestions...
1) How do you cut your 8" PVC? The hacksaw is ok, but hard to get straight....
2) Connecting hose to PVC for the inlets...how do you do it? Right now, I am using a threaded female adapter. I put the smooth end on the PVC, and force the tube into the threaded end. Then use some sealant to seal the tube side, as it leaks. But there has to be a better way. I would love to hear what everyone else does! (I'll post a pic of this soon)
3) Since clear PVC is expensive...any good way to tell if your "pump filter" is just filling with water instead of keeping the air pocket? (Other than just watching the nozzle output) Ideas?
I will post some more pictures later, when I can test it again.
I think that it is safe to say that if your filter is not leaking then it is working properly. As the filter is getting full the air is escaping clear up until the water starts to flow out the second tube. Once the entire system is full of water you will notice that it takes a second or two for the system to reach its full height. The system has to reach an equilibrium between the pressure inside the nozzle and the pressure inside the filter. If you don't see any leaks or hear any hissing then I think it's ok.

One thing you can check is once your entire system has reached its equilibrium then you can tilt your filter to see if more air escapes eventually.
Nozzle Master





Posts

: 450


Join date

: 2009-04-03


Age

: 41


Location

: Utah



That seems great

you dont have a brass ring on the output ?
And btw, did not see you mention how the layers is inside the nozzle?
But on my nozzle the water enter first, then hit the filter, and last thing is the straws !
I never have anything after the straws to the output !
Admin




Posts

: 520


Join date

: 2009-04-02


Age

: 37


Location

: Norway



Hey! Sorry I should have been more clear. I will try and take some better pictures inside the nozzle to, just in case anyone is curious.

I use the same order: Tangential input->Screen->3 layers of foam filters->Straws->Screen->2-3 inches of open space->Brass Nozzle output


anyone have any advice on better ways to cut the 8" pipe, or how to connect your 1" tubing to the PVC? Thanks in advance!
Finally the cold here in Chicago has broken for a bit, and I was able to test my nozzle. This is the first test with everything sealed. I am including a link to the YouTube video of it. As you can see, there is quite a bit of pump jitter, and I hope that this is the reason that my stream is breaking up towards the end. I do have the low pass filter in place, and it only has the small leak that you can see on the video, but it really doesn't seem to be working....do I need a bigger filter with a bigger air pocket? Any advice or help would be GREATLY appreciated!! Thanks!

https://www.youtube.com/watch?v=rxf1UuY4wdY
And while I am posting, I have a theory question. Maybe someone who has a nozzle that is clear can help. So when the nozzle fills up, in theory, most of the water goes straight up from the straws, and most of it hits the top instead of exiting the nozzle. So once the system is in equilibrium, is much water flowing through the outer straws? Or is most of the water that actually exits the nozzle going through an "expressway" in the middle of the while nozzle straight to the exit?
That looks pretty good! What is the arc size? There is a limit where the no matter how much of the pump jitter is removed it will still break up. I'm pretty sure that has to do with the air resistance on the water. When it is moving that much it does seem like jitter.

I don't think it matters too much but is the top or bottom the inlet?

About how long does it take for the fountain to reach the maximum (i.e. once it starts to shoot water to the maximum arc)? I think mine took about 1 second. The longer it takes the more complaint your system is and the more filtering it will ...filter. lol

Possible solutions. You could build a second filter and put it in series with your other one. Or you could just build a really really big one.
Nozzle Master





Posts

: 450


Join date

: 2009-04-03


Age

: 41


Location

: Utah



Thanks for the info! I have not measured the arc. I am using a Total Pond 1200GPH pump, so the arc is really big. In that case it was about 5 feet high, and 10 feet long. However, I have a ball valve right before the inlet to the nozzle, and I had that turned down because otherwise the arc is just huge (but still not 100% laminar)! I wonder if that would affect the pressure. Maybe I should have that ball valve before the low pass filter? Or maybe I need a less powerful pump to have a more reasonable arc that doesnt break apart?

---
Permissions in this forum:
You
cannot
reply to topics in this forum